TruSpeed Autosport and Justice Brothers offer special promotion for Veterans
Costa Mesa, California (24 July 2017) – When it comes to racing in the Pirelli GT3 Cup Trophy USA Series, the competition is fierce. And just as important, the camaraderie is spirited. Longtime Pirelli GT3 Cup competitor TruSpeed Autosport will not only be chasing victory at Mazda Raceway Laguna Seca, but has also come together to support an important organization: Warriors on Track.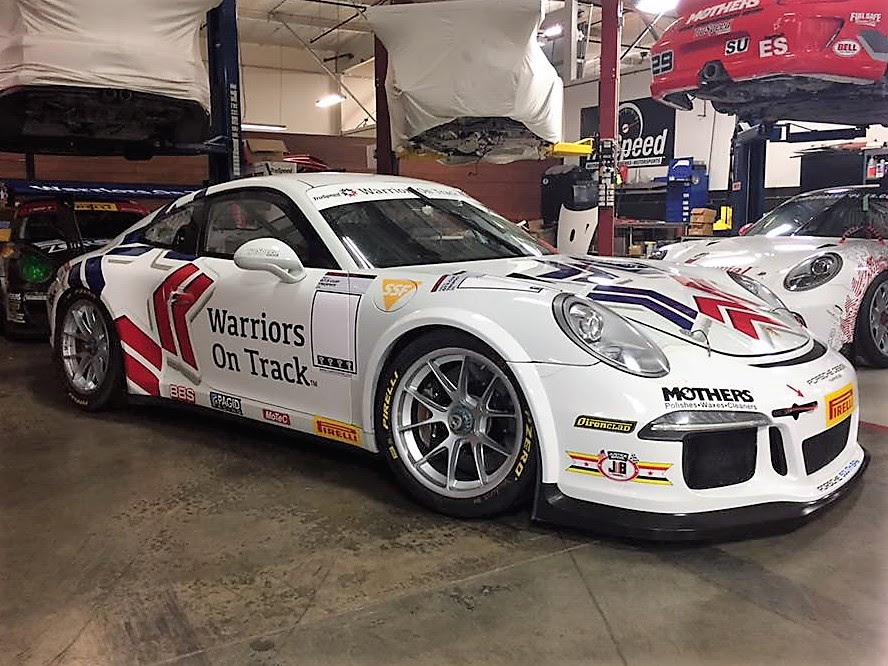 The California-based non-profit was founded by veteran Tom Woods who suffered from PTSD. After years of failed treatment by other sources, he found The Brain Treatment Center and formed Warriors on Track. The non-profit organization combines neuropathic therapy with recreational events and counseling and support for veterans by veterans to help insure the highest level of success with PTSD.
The Brain Treatment Center explores the concept that the brain can be treated by physical means that are not chemical. By exploring the relationship between cognition and neural activity, an innovative and informed approach to non-invasive neuromodulation is possible.
A dedicated team of neuroscientists and physicians believes in delivering individualized treatment in order to achieve a healthier life for people with various neurological issues. The Brain Treatment Center is able to map and reveal communications in the brain's neuronal networks and as a result, take a personalized and targeted approach based on brain rhythm which encourages healthy brain communication activity. 
The No. 94 TruSpeed Autosport Porsche has a brand new livery for the Mazda Raceway event which showcases the Warriors on Track organization. The car will be driven by 2016 Pirelli GT3 Cup Series Silver class champion Kevin Woods, who won in the series' most recent visit to the northern California circuit last June.
Woods will compete in the top-level Diamond category with the team targeting a win for the Warriors on Track organization both on and off of the track.
Warriors on Track Founder Tom Woods grew up in the world of motorsports – karting at the age of 11 and racing in the formula ranks and in Skip Barber. He and Alex Comee, General Manager at TruSpeed Autosport, previously worked together at Skip Barber and when the two reconnected about a potential partnership, the idea quickly formed into much more.
"After a number of years out of contact, Tom (Woods) and I had reconnected via Facebook," said Comee. "I was exploring some import/export opportunities outside of motorsports and was looking for some advice and direction so I posted a general question on Facebook. Tom called me with a potential contact that might be able to help me. During our conversation, we caught up with one another and Tom went into detail about his racing program to help Veterans recover from PTSD by way of using motorsports. There seemed to be quite a bit of promise for this program, but in order to do it right, he needed a bigger stage, so to speak. I suggested having a meeting with Tyler (Tadevic, TruSpeed Team Owner) to use TruSpeed's resources and during the course of our meeting, we discovered that between the three of us, we knew a lot of the same people in the racing circles. I suppose 25+ years in racing will have that impact!"
"Literally everyone we speak to about Warriors on Track gets excited at the idea! And why not?" continued Comee. "After the service and sacrifices the men and women of our armed services have made for us, this is the least we can do for them in return. All of us feel very fortunate and excited at the opportunity to give back to them. It makes motorsports an even more rewarding industry to be in!"
The partnership at Mazda Raceway Laguna Seca is just the first step in what the two efforts hope will eventually launch into a program where veterans interested in working in motorsports can train at the TruSpeed race shop and learn how to work as a member of a pit crew.
Having just been founded in August of last year, the Orange County-based Warriors on Track has already attracted a large amount of interest. The group formed a team for the 25 Hours of Thunderhill last fall with a pit crew of veterans and has goals of expanding into other forms of racing including NASCAR.
"The Warriors on Track organization is elated to showcase our program at the upcoming Pirelli GT3 Cup Trophy USA Series event at the world renowned Mazda Raceway Laguna Seca," said Founder Tom Woods. "Warriors on Track provides an all-encompassing program to facilitate reintegration of our military Veterans back into society. Our motorsports platform utilizes recreational therapy, personalized services, job training, and job placement to restore the full potential of our nation's highly trained, dedicated, and purpose driven Veterans. Through teamwork, camaraderie, and mentorship we aim to get Veterans "back in the driver's seat" to once again be meaningful contributors in their communities. Keep your eye on the track as we begin to heal our nation's heroes from the wounds of war!"
TruSpeed Autosport and Justice Brothers will offer a special promotion for veterans during the Mazda Raceway Laguna Seca event weekend. Every veteran that shows ID will receive a can of Justice Brothers JB-80 spray lubricant signed by Kevin Woods and a Warriors on Track patch. Additionally, non-military members can donate a minimum of $100 and receive a signed can and patch.
The Mazda Raceway Laguna Seca event gets underway on Friday, July 28 with practice followed by two full race days on Saturday, July 29 and Sunday, July 30.
For more information about Warriors on Track and donating, visit www.warriorsontrack.org.